BTS Fashion at the Grammys 2020
BTS (Bangtan Sonyeondan, meaning Bulletproof Boy Scouts) return to the Grammys, not only performing a special rendition of 'Old Town Road' with Lil Nas X but also to the red carpet sporting classic and minimal outfits. The South Korean group coordinated well in complementary tones across suit jackets, trench and wool overcoat alongside turtleneck sweaters. Much of their outfit are pieces from Bottega Veneta (Italian luxury goods and high fashion brand).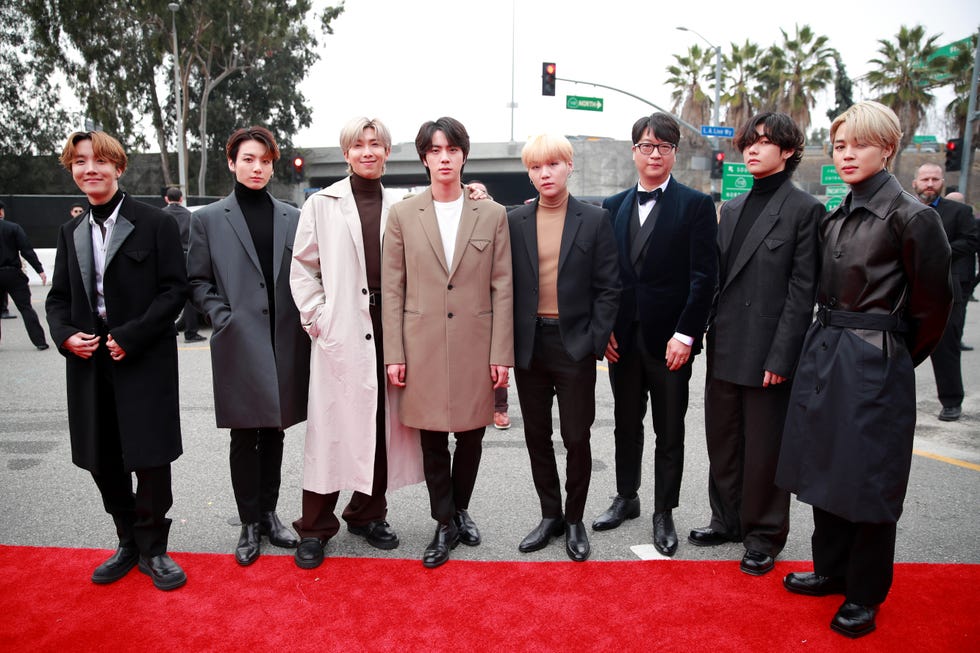 The overcoat over turtleneck look has been a popular trend in menswear since the 1990s but has returned to casual fashion in recent years thanks to the South Korean pop-culture, frequently worn by both celebrities during music videos, television, film as well as the public.
The group's lower half mostly comprise of regular and slim-fitting suit trousers (except for V, unsurprisingly) coupled with formal and well-polished shoes. V's straight cut suit trousers and an oversized jacket is a returning style from the 1980s and is slowly being popularised once more. G-Dragon, a fashion icon from the second generation of K-Pop, had on occasion worn a similar style in the mid to late 2010s during performances. But then again, what hasn't  G-Dragon worn before?
Jimin is seen to stand out with his partially leather trench coat, while SUGA rocks a skinny fitting suit and a warmly colored turtleneck. Similarly, J-Hope's outfit adds another layer of complexity, with a turtleneck beneath a dress shirt, beneath a wool coat.
It can be argued that hairstyles should not be a contributing factor when discussing fashion, however, that too can be contested especially in the case of BTS, whose hair frequent changes with the seasons and albums. BTS returns in 2020 with neutral tones in their hair, mostly dark with warm blondes and auburn tints. Their hairstyles this season are, for the most part, matured and modest: V wears a long wavy hairstyle; SUGA displaying straight warm blonde hair; Jin with a 1/3 parted longer look; Jimin with blended bleached hair in a 1/3 part too; Jungkook sporting wavy hair decorated in coral ombre; RM growing his parted hair out similar to a mullet; J-Hope with wavy curtains cut at eyebrow length.
All in all, it is certain their upcoming album, 'Map of the Soul: 7' released on 21 February, will have plenty more outfits and hairstyles to look forward to, from minimal to colorful to iconic. If you are interested in similar items of clothing as described above, please scroll down the to 'Related Products' section of this article, or take a look at our product catalog.