Travis Scott: Grunge meets Hip-Hop

Travis Scott, previously 'Travi$ Scott', is an American rapper who rose to fame with his debut studio album Rodeo released in 2015. He has since been known for his iconic take on streetwear, uniquely and successfully mixing elements of the grunge and hip-hop fashion subcultures into outfits that have grasped the attention of the public over the years. Travis Scott's wardrobe affinity has led to him being approached by fashion designers and brands all around the world, such as, more recently in early 2020, Dior during their Men's pre-fall 2020 show as well as Nike.
Following the releases of Travis' second and third studio albums 'Birds in the Trap Sing McKnight' and 'Astroworld', the popularity of the artist grew exponentially, ultimately leading to greater exposure of his fashion sense. It can be generalized that Travis' outfits historically comprised of rough and grunge components with specific attention placed on cargo pants, retro tees and plaid cottonwear, such as flannels and coats. Much of his 'Astroworld' merchandise replicates these looks too. Below at a Miami concert, Travis sports a padded plaid jacket over a simple white tee, chains, and straight cut cargos. This outfit is put together impeccably due to the contrasting colors involved, the cut of the slim tee not overpowering the rest of his looser and baggier pieces. Last but not least, his careful choice of neutral, pale brown, Vans footwear should not be dismissed, adding the final touch to a soothing color palette depicted by the look.
Throwing it back to early 2017, Travis is seen below at The Supreme x Louis Vuitton collaboration debut as part of Louis Vuitton's runway show at Paris Fashion Week. He is seen an oversized dark green-tinted, mid-length, shearling coat worn over the classic Supreme box-logo tee tucked into Champion x Vetements joggers, finally paired with his Louis Vuitton sandals. The look is accessories with a bright red bandana worn around the neck, fortifying his previously mentioned unique choice of incorporating grunge elements into his outfits.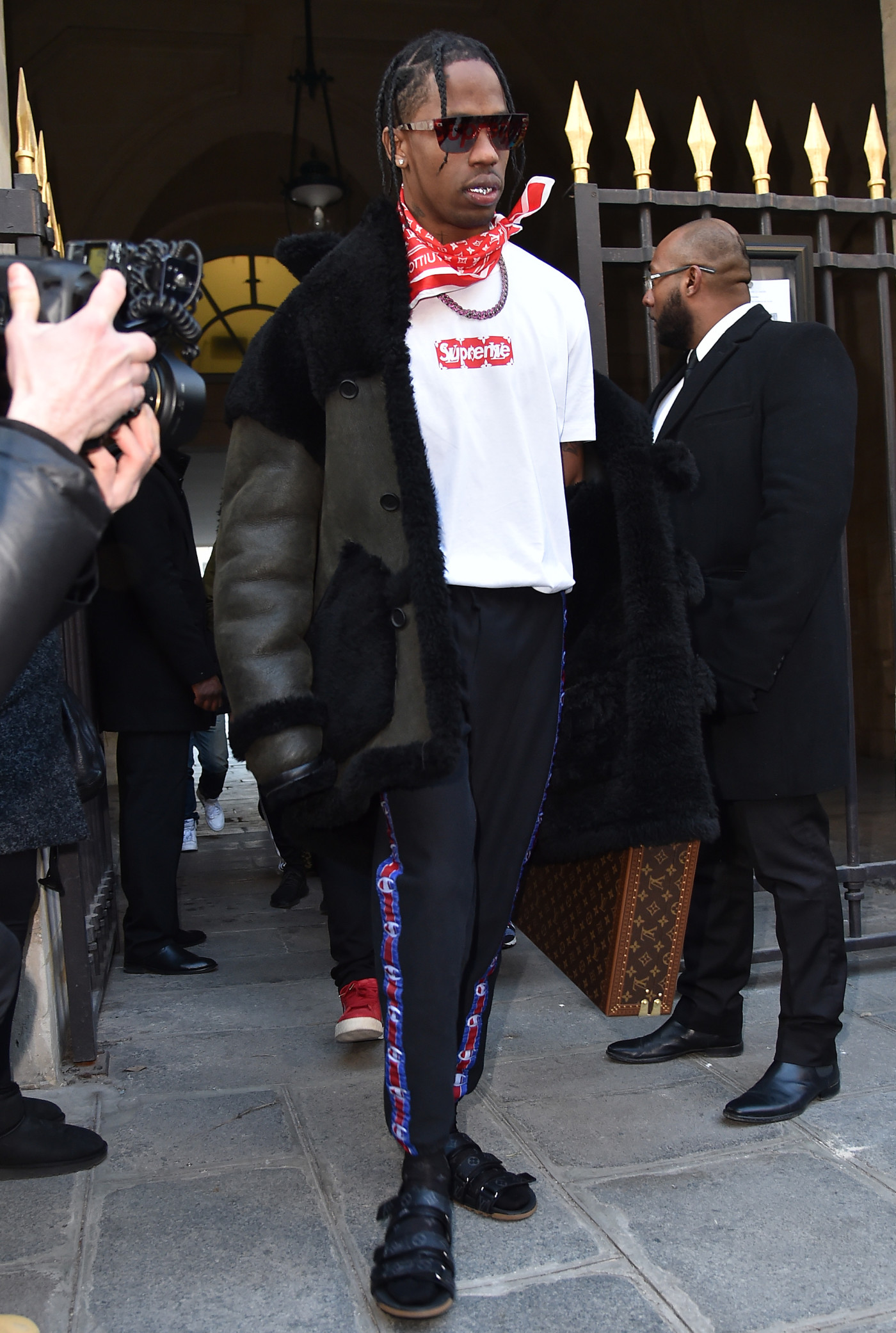 Again in 2017, Travis Scott strongly illustrates a 1990s influence, wearing a warm plaid overshirt, greatly resembling the style of Kurt Cobain - a world-renowned grunge icon. His choice and color of draping cargo pocketed pants were a common theme in the said era, however, included the modern addition of zips at the slightly wider ankles to display his choice of white Nikes. The zipped pant hem was a common detail in 2017, the year in which the rise of bold streetwear and hypebeast fashion achieved significant media attention.
Moving into the year of 2018, at the Met Gala, Travis is pictured wearing formalwear with a fascinating twist, using accessorized leather harnesses. The leather harness addition to outfits, alongside the utility-based, cyberpunk fashion trends only rose to popularity in the following year, so Travis was ahead of the times. The use of leather garments was initially popularised by the punk, rock and grunge genres, so the incorporation of leather at all represents the grunge influences that Travis symbolizes in many of his looks to date. The choice of his skinny fit, black suit was designed by Alexander Wang. Overall, and as a result of this event, it was one of the first times that Travis Scott showed the potential to rock cleaner looks that stylistically fuse accessories - a definitive trait of versatile trendsetters.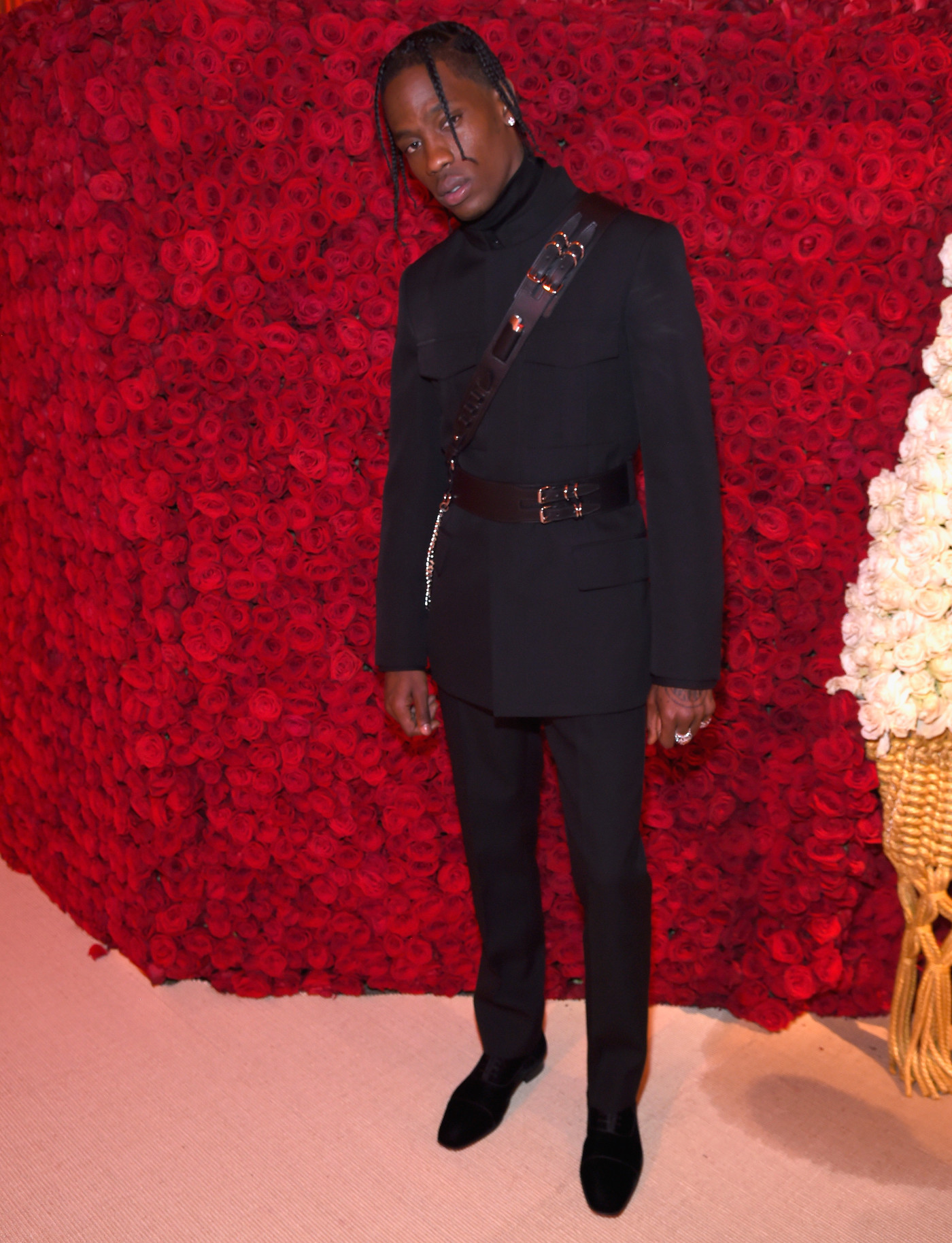 On the topic of Met Gala, the following year in 2019, Travis returned with a similar but adjusted look. Despite the event's theme of: 'Camp: Notes on Fashion', he attended wearing a bespoke cut, double-breasted suit by Dior with further additions to the previous leather hardness, including gloves, elbow straps and a utility vest the same color as his suit.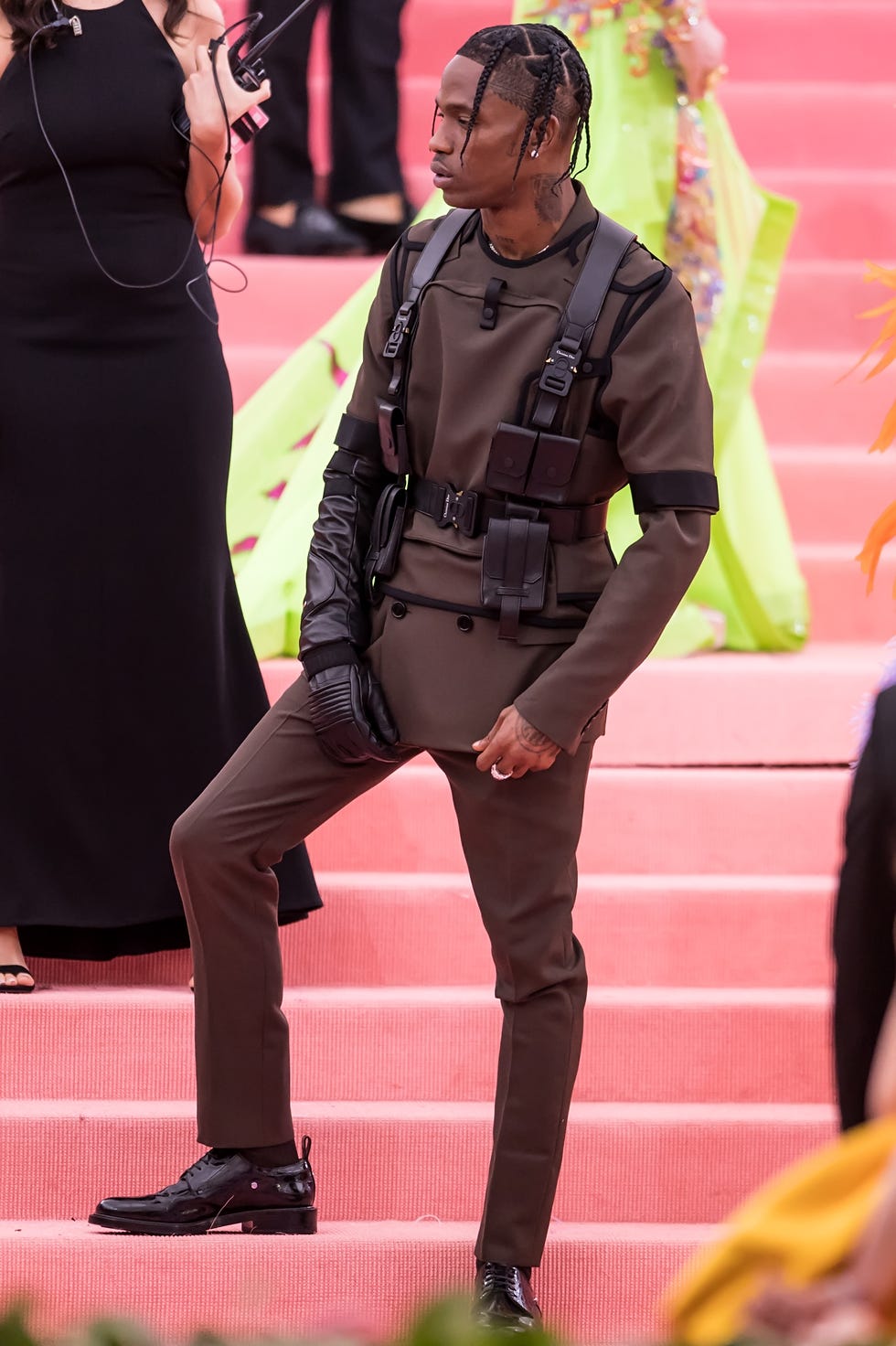 To conclude, though having only highlighted a select few of Travis Scott's outfits over the past few years, with many more to be found captured throughout media, Travis Scott has proven to have made a name for himself in the hip-hop fashion community with his ability to fuse, mix and match styles. He does this while working with collaborators that have a similar way of thinking to sustain his originality. Travis Scott's style can be considered authentic to this date, in a period of fast-moving trends. To this date, Travis utilizes his heavily retro wardrobe while effortlessly collaborating with the likes of high-end brands. Though 2020 has been a quiet year so far for fashion (and needless to say, not just fashion), we recommend that you keep your eyes peeled for Travis' future outfits to come, as we do not expect to be disappointed. If you are interested in similar items of clothing as described above, please scroll down the to 'Related Products' section of this article, or take a look at our product catalog.