Song Min-ho, also known as Mino, is not just a respectable South Korean artist known for his rap but the fashion sense he brings that has caught the eyes of high-end luxury brands such as Burberry. He is also known to be part of the popular boy band 'WINNER' that is under YG Entertainment that formed through the Mnet survival program. This blog post will walk you through a select few of his 2020 looks.
Above, he has put together the Yeezy 500 Salt trainers with the oversized chocolate Hakama trousers that are loose-fitted which creates the effortless aesthetic by giving off the relaxed vibe through the fit of the garments. On top, he wears a white graphic tee with a banana C logo alongside a packable windbreaker and a white mask that covers half his face. He keeps the colour palette simple with the colours brown and white. Besides the oversized fit, the nylon material also plays a part in completing the vintage streetwear aesthetic.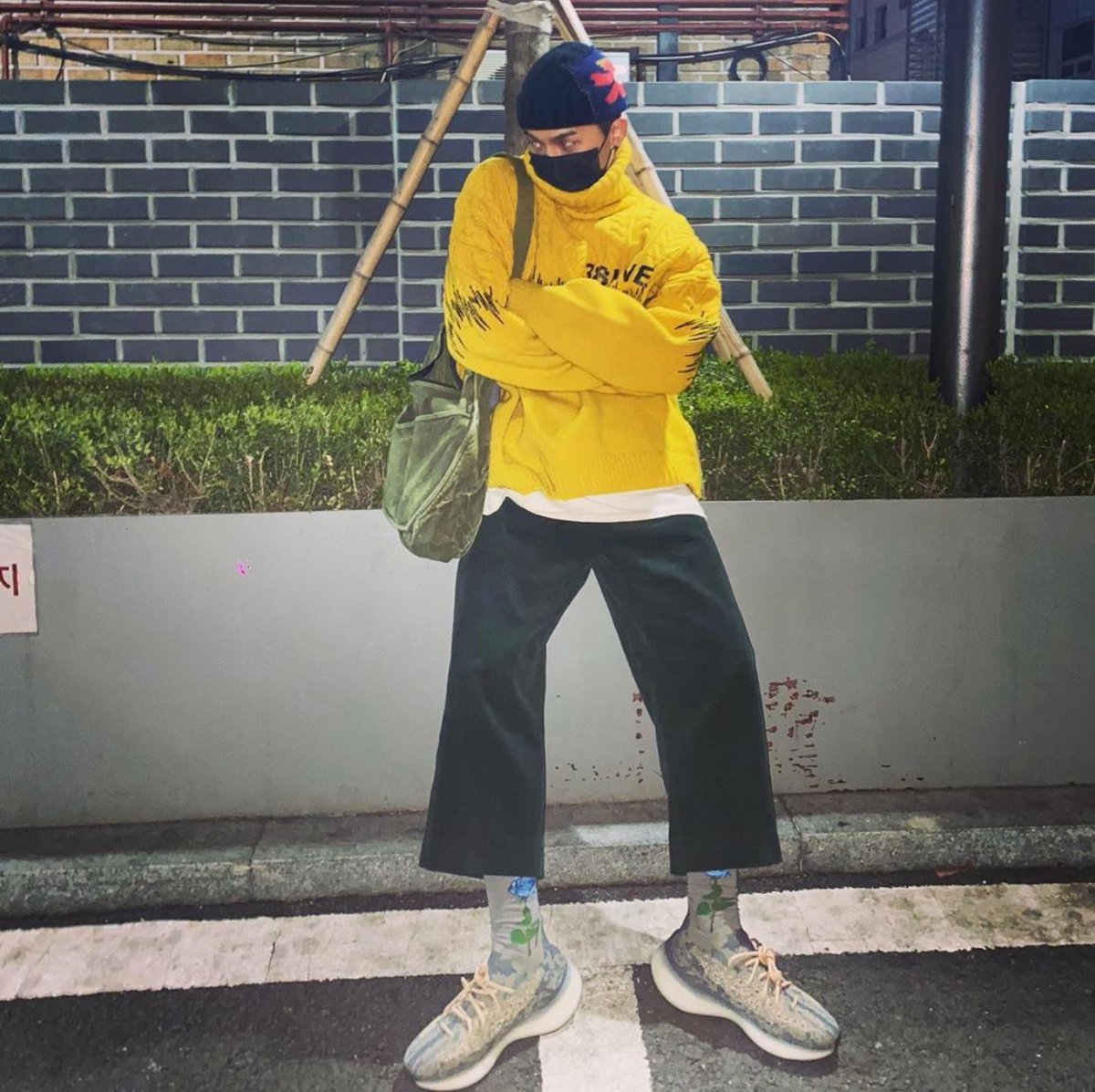 On Mino's recent Instagram pictures, the contrast with colour and minimal pieces create an urban look as he is skilled with keeping the underground streetwear vibe in his outfits. Here he is wearing a yellow Freiknock interface peace collection that contrasts well with the black cropped trousers that are put together with his Yeezy's. At a closer glance, one can notice the graphics socks resembling blue roses that add intricate details to the fit.
Another iconic theme that Mino pulls off well is the plaids and patterns. He switches up the style now and then but it is noticeable that he either wears a plain white tee underneath or even a printed tee. Over the t-shirt, he wears a box-shaped oversized overcoat or suit jacket as a statement piece. Below this is mid-washed distressed denim with thigh slits. His choice of the belt with 3 metallic bars is interesting since it is atypical but he pulls it off in this fit by keeping the design minimal so it blends into the whole look. He maintains the retro influence by sticking to neutral colours and playing with the fits of his pieces. To finalise it he adds a modern, casual touch with the orange-tinted sunglasses.
Last year, Louis Vuitton opened a spring/summer 2020 Men's fashion collection in the streets of Paris. Mino caught the attention of this high-end luxury brand as a contemporary front-runner because of his unique approach to fashion that made him stand out from the K-pop scene. In the gait, he has combined the oversized overcoat with floral and pastel patterns beneath loose fitted trousers. To finish, he wears white minimal sneakers to keep the outfit clean and neutral.
Song Min-ho's style is heavily influenced by streetwear and vintage retro, but he adds his own touch by mixing it with high fashion elements. He updates the history and trends of fashion by modernizing the look using contemporary pieces with a twist.  If you are interested in similar items of clothing as described above, please scroll down the to 'Related Products' section of this article, or take a look at our product catalog.


Minimalist Copy

Content Writer, Copywriter & Digital Marketer
Nightcity Clothing Collaborator
instagram.com/minimalistcopy
minimalist-copy.com